Consigli di lettura per startupper di successo? Simona consiglia il titolo da manuale! Leggi l'esclusiva intervista condotta dal Team di Get it!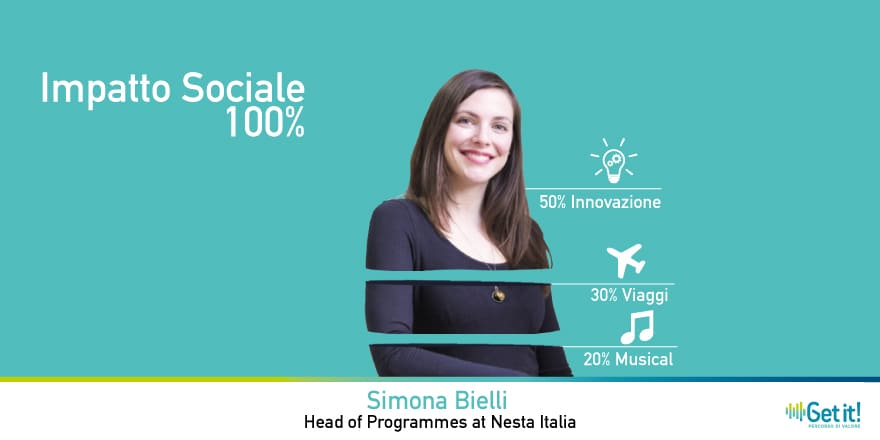 Simona crede nel potere dell'innovazione per un mondo più sostenibile, sano e equo. Nel corso dell'ultimo anno, ha lavorato a un nuovo entusiasmante progetto che ha portato alla fondazione di Nesta Italia. 
Il percorso di Simona èarte da lontano, infatti come parte di questa missione, dal 2010 collabora con Regno Unito e Silicon Valley come program manager, mentore, ricercatore; più recentemente è project manager in Nesta per due prestigiose iniziative di ricerca paneuropee finalizzate ad aiutare le startup a crescere. Come parte di questi progetti ha lavorato con The Scale-up Institute, Tech London Advocates, Mind the Bridge e The Lisbon Council.
Simona, raccontati in un Tweet!
Appassionata di innovazione e curiosa osservatrice dell'impatto sociale generato dalle soluzioni abilitate grazie alla tecnologia. Nella vita privata mi deico alle mie passioni: cantare, viaggiare, esplorare nuovi cibi e culture, fare sport, e soprattutto ridere con gli amici.
Cosa significa per te Impatto Sociale?
Il risultato di un'azione-intervento che migliora il benessere dei propri beneficiari e della società, risolvendo un problema sociale. 

Parlando di startup, quali sono secondo la tua esperienza gli elementi vincenti di una startup?
Sono molti gli elementi vincenti che posso aiutare una startup a raggiungere i propri obiettivi, tra i più importanti sicuramente il Team, la visione strategica, e capacità di costruire partnership e relazioni.

Qual è il miglior consiglio che daresti a una startup?
Execution, execution ed execution. Consiglio la lettura del libro "The Lean Startup", in italiano Partire Leggeri di Eric Ries, un'ottima fonte d'ispirazione per il perfezionamento del prodotto-servizio.
Un'ultima domanda, quali skills distinguono uno startupper di successo?
Visione, spirito imprenditoriale, spiccate capacità relazionali, determinazione, empatia, e soprattutto capacità di execution (il saper portare a termine quello che si promette)!
Grazie Simona,
in bocca a lupo a te e a tutte le startup di Get it!